London in winter can be a magical experience. From the festive lights to the frosty air, the capital of England is a beautiful place to visit. Even if you're not a fan of winter weather, there are plenty of activities and attractions to keep you busy. So, if you're planning a trip to London in winter, here's what you can do.
Visit the Christmas Markets
One of the best things to do in London in winter is to visit the Christmas markets. These markets are full of festive decorations, unique gifts, and delicious food. You can find markets in Leicester Square and Winter Wonderland in Hyde Park.
Catch a Show
London's West End is one of the best places to catch a show in winter. Whether you're looking for a classic musical or a modern production, you'll find something to suit your taste. Plus, there are plenty of discounted tickets available through ticketing websites.
Go Ice Skating
Another fun winter activity in London is ice skating. There are several rinks around the city including  the Somerset House Ice Rink, the Tower of London, and the Queen's Ice Rink. It's a great way to get outside and have some fun in the winter weather.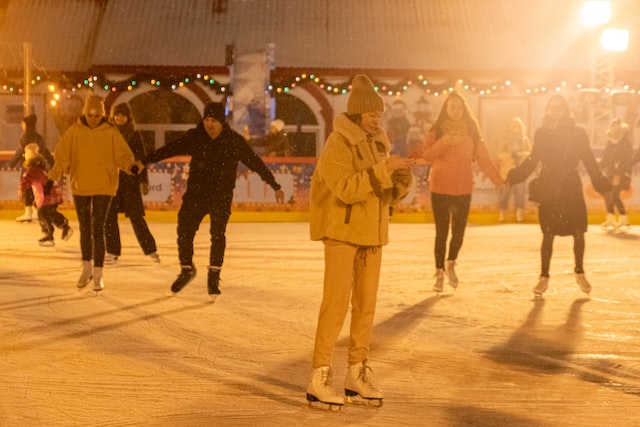 Take a Winter Walk
London is full of beautiful parks and gardens, and these make for great winter walks. Whether you're looking for a scenic stroll or a brisk walk to keep warm, there are plenty of options. Pack a thermos of hot coffee to keep you warm and enjoy the sights of London in winter.
Take in the Festive Lights
London is one of the best cities to see festive lights in winter. From the brightly lit Oxford Street to the beautiful decorations in Trafalgar Square, there's plenty to see. Take a stroll through the city and marvel at the beautiful displays.
Shop for Christmas Gifts
London is a great place to do your Christmas shopping. Whether you're looking for unique gifts or festive decorations, you'll find what you need in the city's markets, department stores, and boutiques.
Visit the Museums
London is home to some of the world's best museums and galleries. From the British Museum to the Tate Modern, there's something for everyone. Plus, many of the museums offer free admission, so you can enjoy them without spending a fortune.
Enjoy a Festive Afternoon Tea
What better way to warm up in winter than with a festive afternoon tea? Many of London's top hotels offer Christmas-themed afternoon teas with delicious treats and festive decorations. It's the perfect way to treat yourself in winter.
Spend an Evening at the Theatre
London's theatre scene is thriving in winter. From classic plays to modern productions, there's something to suit every taste. Grab tickets to a show and spend an evening at the theatre.
Take a Winter Cruise
London is full of beautiful waterways and taking a winter cruise is a great way to explore them. Enjoy the lights of the city and the tranquil waters of the Thames as you take in the sights of London.
The London City Pass is a great way to save money on attractions and activities in London during the winter months. The pass gives you access to over 60 top attractions and activities in the city, including the Tower of London, London Eye, Kew Gardens, London Zoo and more. You can also get free entry to a range of museums and galleries, as well as discounts on theatre tickets, restaurants and shopping. With the London City Pass, you can save up to 50%.
These are just a few of the many things you can do in London in winter. From festive markets to theatre shows, there are plenty of activities to enjoy in the winter months. So, why not plan a trip to London and experience the city in winter?